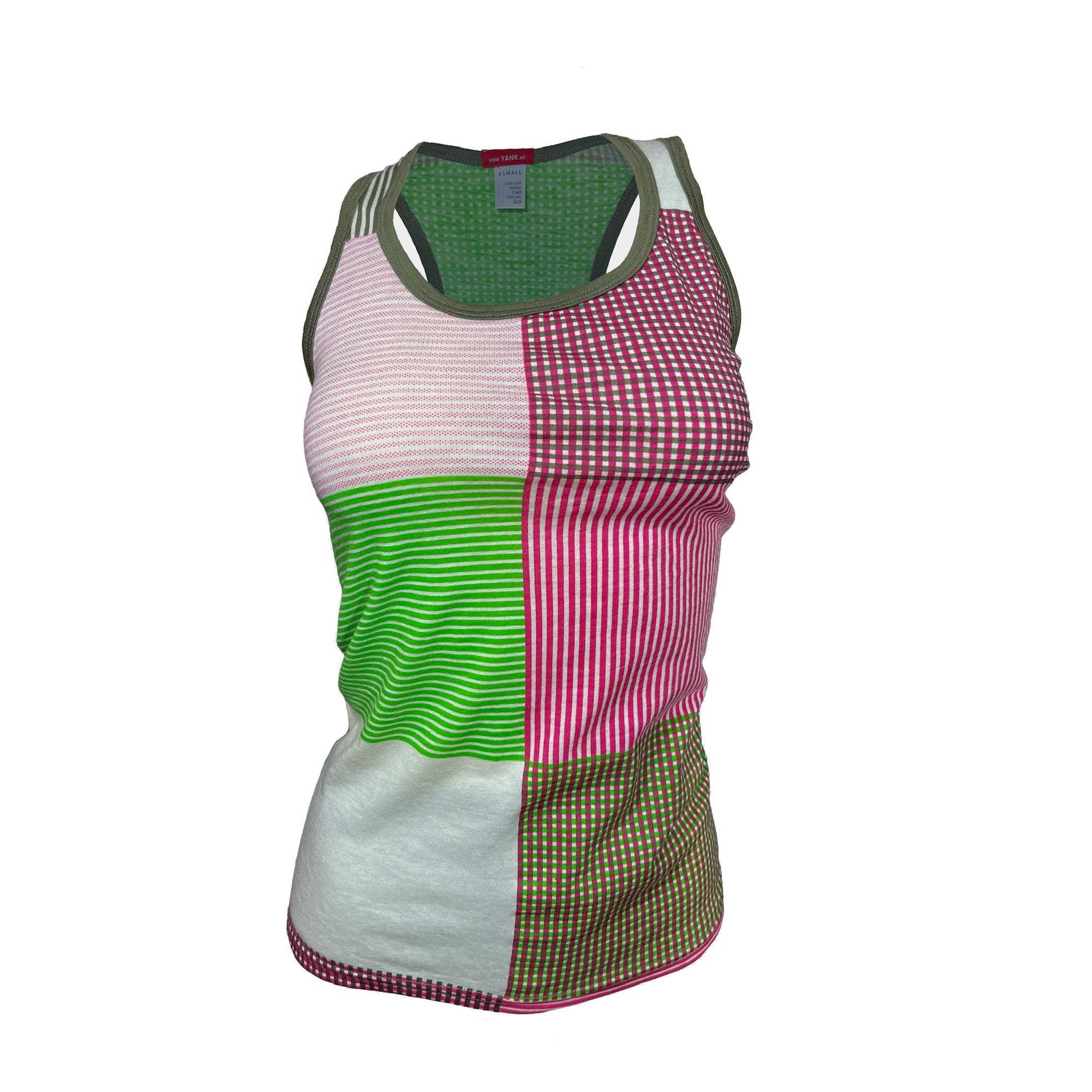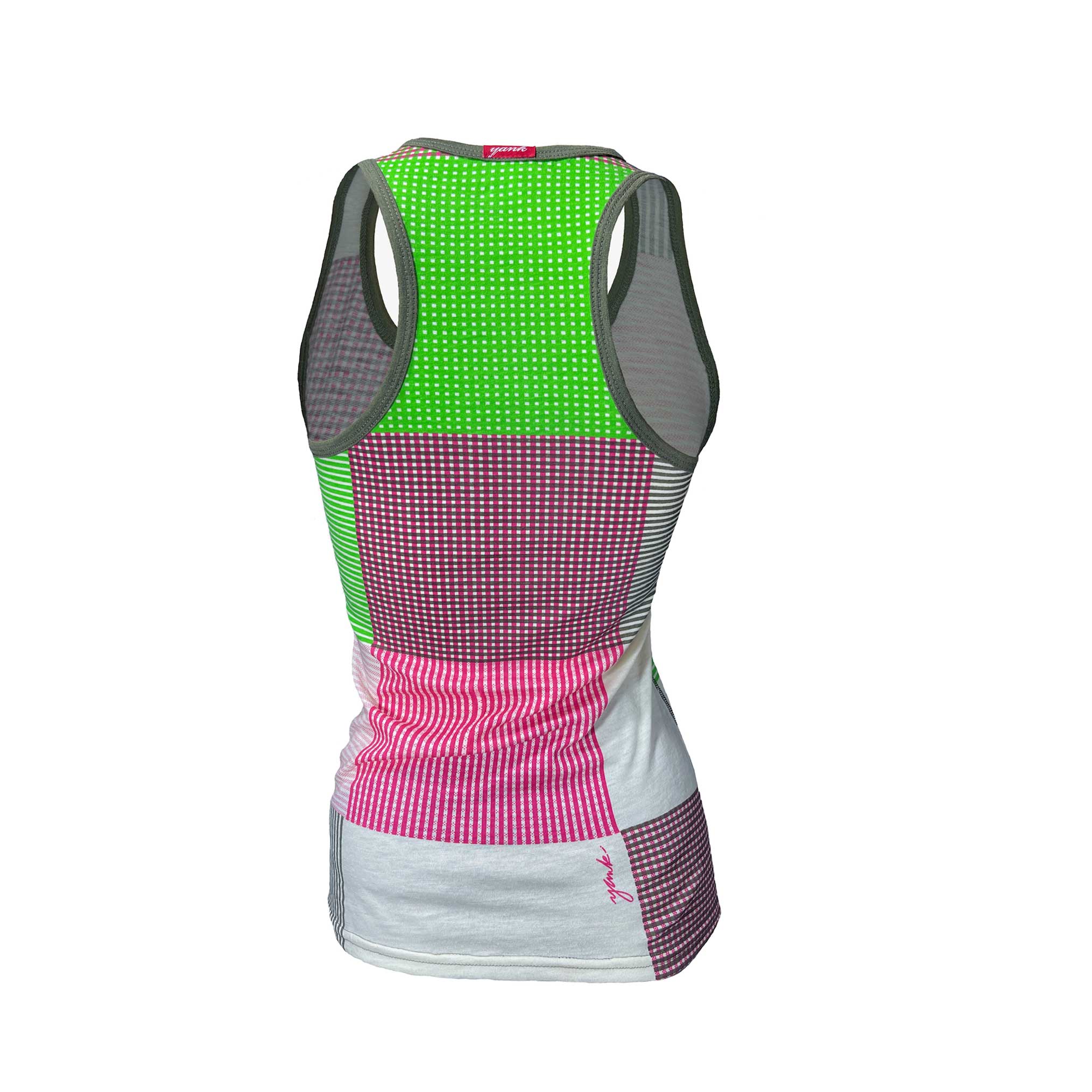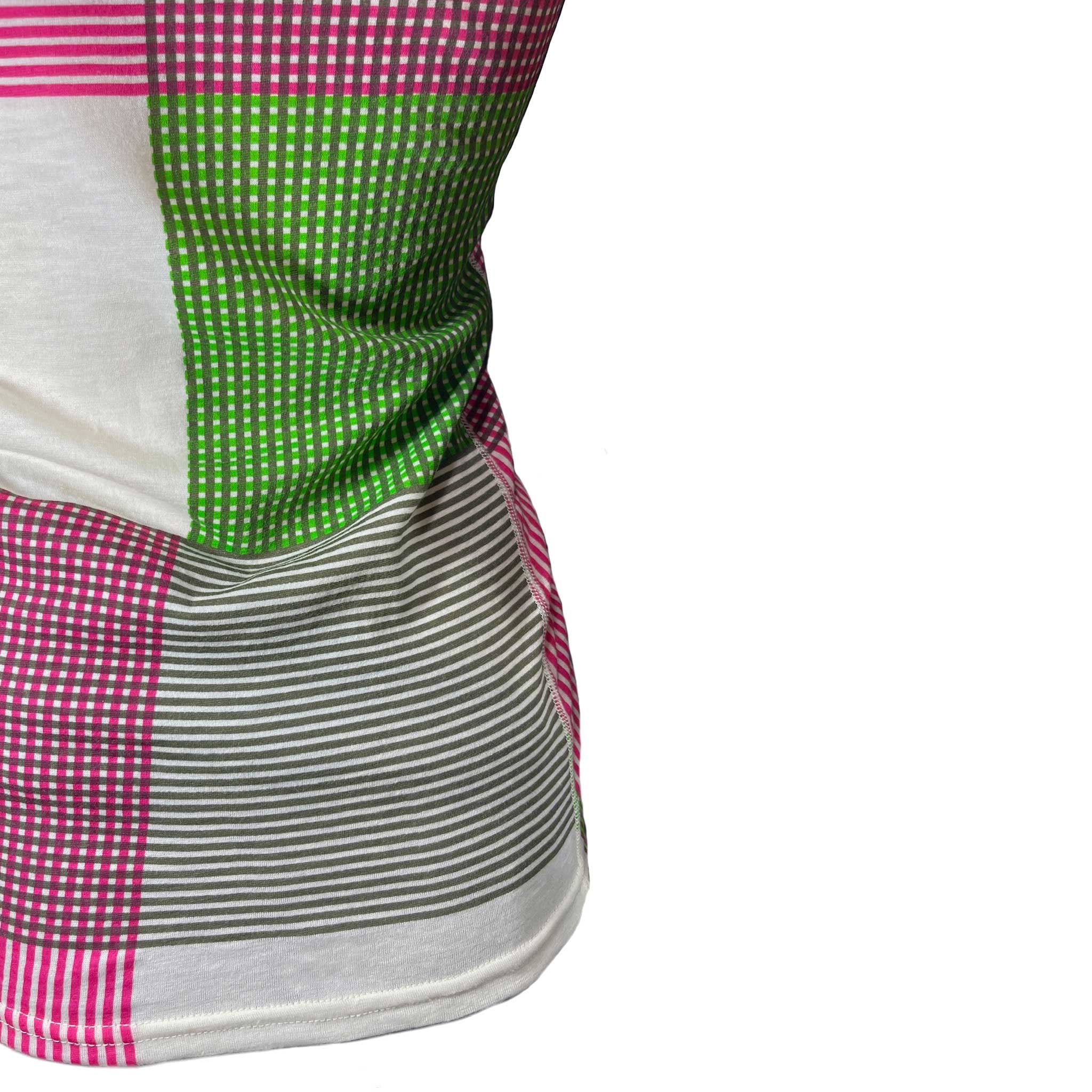 Women's Hawea Singlet | Blossom Pink
Inspired by the classic New Zealand woollen blanket, simply weaving together clean lines of colour. This print is set at a large scale with no two woven colour combinations repeated beside the next. This collection has truly vibrant shades of hot pink, spring grass green and golden brown on deliciously soft *125gsm ivory NuYarn merino.

*Definitely the lightest set of the Hawea Collection.
Created to be versatile our merino scoop neck tees are a year round staple. Commute to work. Collect summits. Bike-pack a gravel ultra. Hit the coffee shops with your bestie. You name it, this shirt has got you covered. Awesome merino - ready for any adventure.
Made with the world's first performance merino Yank merino tees are breathable, temperature regulating and ultra-comfortable.
Designed and manufactured in New Zealand each garment is constructed with flat seams for added comfort and a buttery soft wearing experience, with no annoying rubbing. 
Available in a variety of limited edition colours.

Features of our merino scoop neck tee:
86% Merino / 14% Nylon
Flat seamed for comfort
Subtle shaped relaxed fit
Straight hem
Naturally odour resistant
Temperature regulating
Women's Hawea Singlet | Blossom Pink
FAQ

Why Nuyarn© merino?

NUYARN'S NATURAL BENEFITS WON'T WASH OUT OVER TIME

NUYARN® technology has managed to obtain fabric performance properties that no other yarn can deliver.


Ultra-light

High performance stretch

Unparalleled stretch/regain properties per fabric weights

Environmentally friendly manufacturing process

Using 30% less raw materials

How do I care for my merino garment?

Only wash when needed.

Machine wash cold using wool safe soap and air dry inside out in the shade. You should wash cold to prevent shrinking of the Merino wool, and air dry in the shade to battle against shrinking, and to preserve color / slow fading.

The fabric is odour resistant, so it doesn't need to be washed as often as other fabrics. Simply hanging them out to air will suffice.

Is NUYARN® merino itchy?

Yank garments are made using super fine 17.5 micron NUYARN® merino fabric. Due to the fineness of the wool it has natural elastic properties making it is very stretchy. The reduced twist in fibres pmeans fewer protruding ends to cause irritation to your skin. It is silky soft. It stretches with your every movement. This makes it non itchy and so comfortable to wear. Not to mention merino has also been linked with lowering skin allergies.

Shipping & Returns

Shipping & Fees

All parcels are tracked.


We are not able to send to 'PO Box' addresses. Please provide an appropriate delivery address when placing your order.

Destinations & Fees

New Zealand under $100 $6.00 (NZD)

New Zealand under $200  $8.00 (NZD)

New Zealand over $200   FREE

Australia under $200        $20.00 (NZD)

Australia over $200          FREE

International / Rest of World $60.00 (NZD)

International deliveries can take up to 10 days.

Order tracking

All parcels are tracked.

We are not able to send to 'PO Box' addresses. Please provide an appropriate delivery address when placing your order.

All New Zealand orders are shipped with track pack couriers. This is usually a 2 day service to the North Island and overnight to the South Island. Please allow an extra 2 days for rural deliveries.

All International parcels are tracked through NZ Post.
International deliveries can take up to 10 days.

International Duty & Taxes

We are happy to ship our products all around the world and like to keep things simple.

International Duty and Taxes are the responsibility of the customer.
Charges are not always incurred, customs clearance differs in each country. Your country may charge duties and taxes. 

Please contact your local customs office for more information.

All International parcels are tracked through NZ Post. International deliveries can take up to 10 days.

Exchanges & Returns

We strive to create beautiful quality products, and our hope is that you love them as much as we do when you receive your order.
Regardless of our goals, we should still have a plan in place should you find yourself unhappy with your purchase. You are welcome to return any item for a refund or exchange providing it is in it's original condition (unwashed, unworn, and unused), along with the original receipt within 30 days. Please do not remove swing tags.

Be sure to contact us regarding any issues should they arise. Then send your item back with the original receipts. Shipping costs for returning items are the responsibility of the customer.

When the returned item has been received we will check to make sure that it is unworn and in it's original state with swing tags intact. Once this is complete we will process your request. Refunds will be made within 14 days of receiving returned items.

Please note: There are no refunds or exchanges on sale items.

​Regarding Socks.. if for some reason you get your parcel and all of sudden realise you got the wrong colour or size we will happily exchange them for you. To exchange your socks simply pop us an email, and return your socks in Original Condition to us with a note enclosed as to what you would like us to send you and we will sort it out for you. "Original Condition" means: The packaging cannot be altered - everything must be in-tact. Socks may not be tried on, worn or washed.

If you believe you have received an incorrect or faulty item please contact us. We do not refund or replace items damaged by improper laundering. Please be sure to follow care label instructions when washing.
Women's Fit Size Chart
Men's Fit Size Chart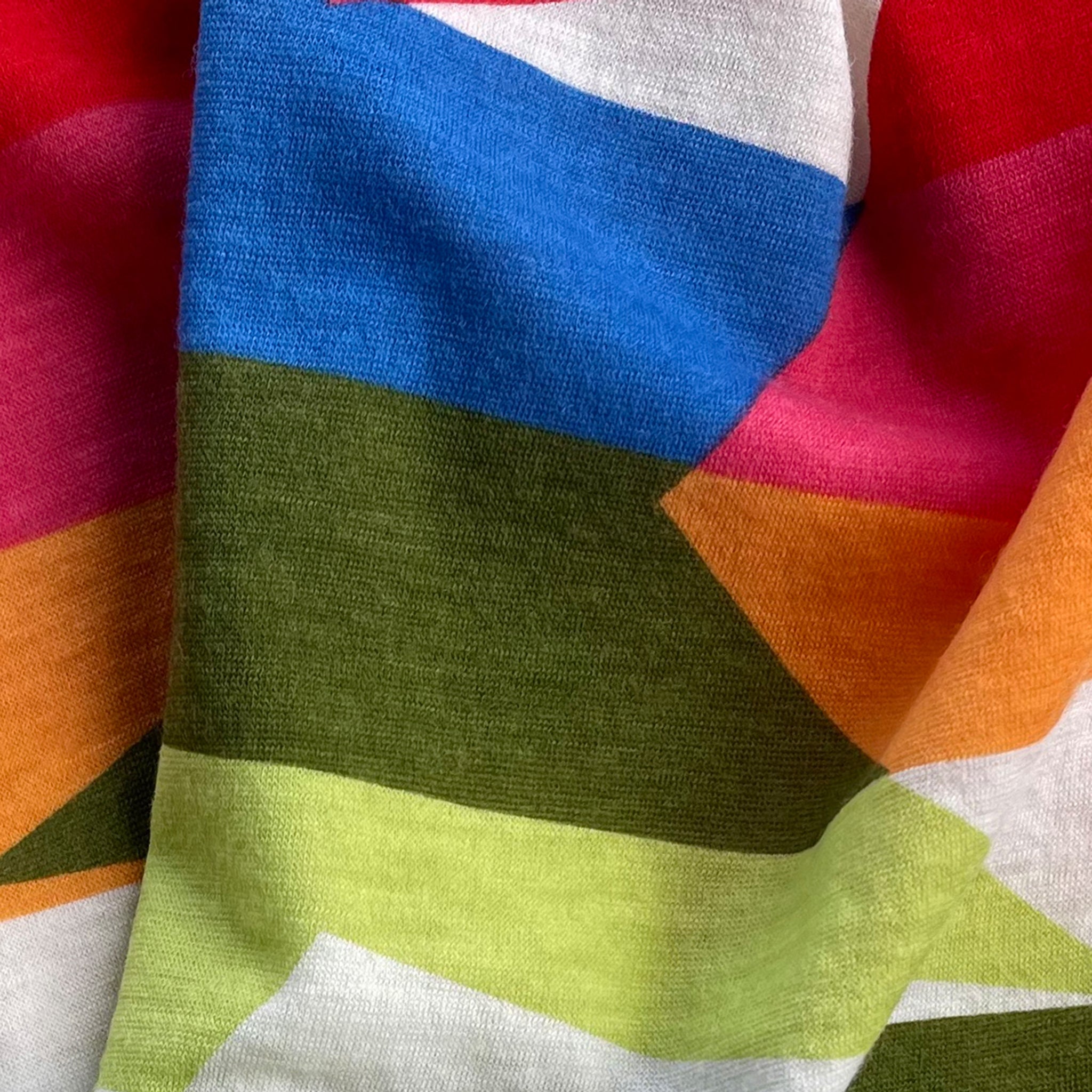 Introducing
Colourful Merino
For years it has been necessary to wear synthetic or non-practical fabrics to enjoy having full colour print. It is now possible to have the best of both worlds. YANK NZ is the first brand in New Zealand to apply colourful prints directly to Performance Grade Merino Fabrics.
By using the world's first performance thread technology, adding a fresh twist of vivid colours and original designs.. your favourite merino just got better. Merino has been used for hundreds of years to make practical reliable garments for work or exploring the great outdoors. Thermo-regulating, moisture-wicking, odor-stopping and so forth.

This is the versatility that busy active lives demand.

Made in New Zealand
Flat Seams & Clean finish
With the increase in off-shore manufacturing, there are a number of machines and skills no longer available in New Zealand. Not prepared so settle for less, YANK merino is amongst the few to celebrate having flat seam joins on all of the garments being made right here in New Zealand. Creating a beautiful clean finish, and soft against skin experience.
With NUYARN© fabrics providing 50% increase in tensile strength and 35% more elasticity using zero elastane or spandex the fabrics are more consistent in appearance, more comfort and fewer holes in areas of impact or abrasion even after washing compared to other traditional ring spun merino fabrics. Requiring zero added stretch NUYARN© is less likely to 'blowout' and loose shape.
Making light weight merino garments even more practical for everyday use.